The ultimate guide to setting up a sound system in your roadster. Getting high quality sound in a convertible is important, it needs to be loud but actually sound like music.
When it comes to car audio in roadsters, cabriolets (cabrios) or topless cars (whatever you wanna call them), we all know one main issue is the sound system. If the top is up, you still got lots of metal and rubber noises in the air. When the top is down, that music needs to overpower the wind, but ends up distorting with factory sound systems.
Quick Links
Picking a head unit | Why door speakers are important | What should I do for bass in a convertible?
How to stop rattling in a convertible | Big door speakers | Wind Deflector Speakers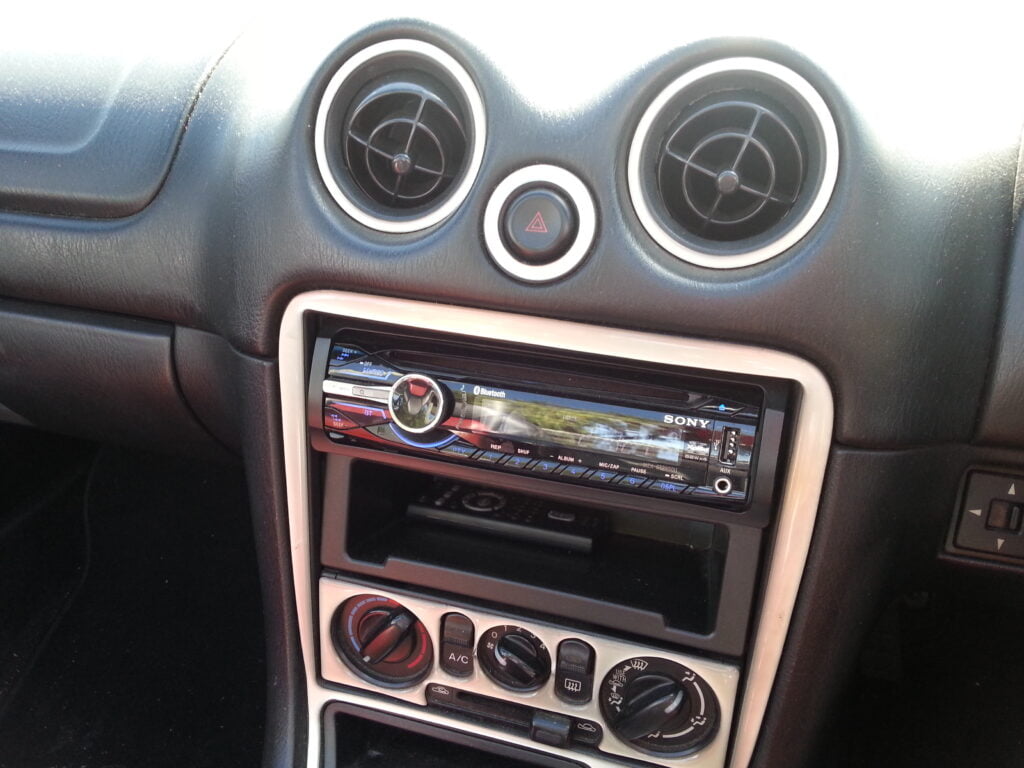 Picking a Head Unit
In all honesty the head unit does not make much difference, in most convertibles (unlike this MX-5 NB) you only have room for a SINGLE-DIN unit.
I'd highly recommend that you do not go for a flip out head unit with a screen, as they tend to make noises and assuming you're like most convertible drivers your car is a bit 'low' so those potholes won't help the components inside.
If your car has a DOUBLE-DIN a nice touch screen will do just fine. If you need bluetooth intercom, unfortunately most convertible cars just don't cut it, no-matter how good a mic and setup you put in.
Be sure to get something with high quality RCAs, a basic rule you can go for is most head units with 2x RCA outs have one for a low-pass (subwoofer) and one for all ranges, these are usually quite premium.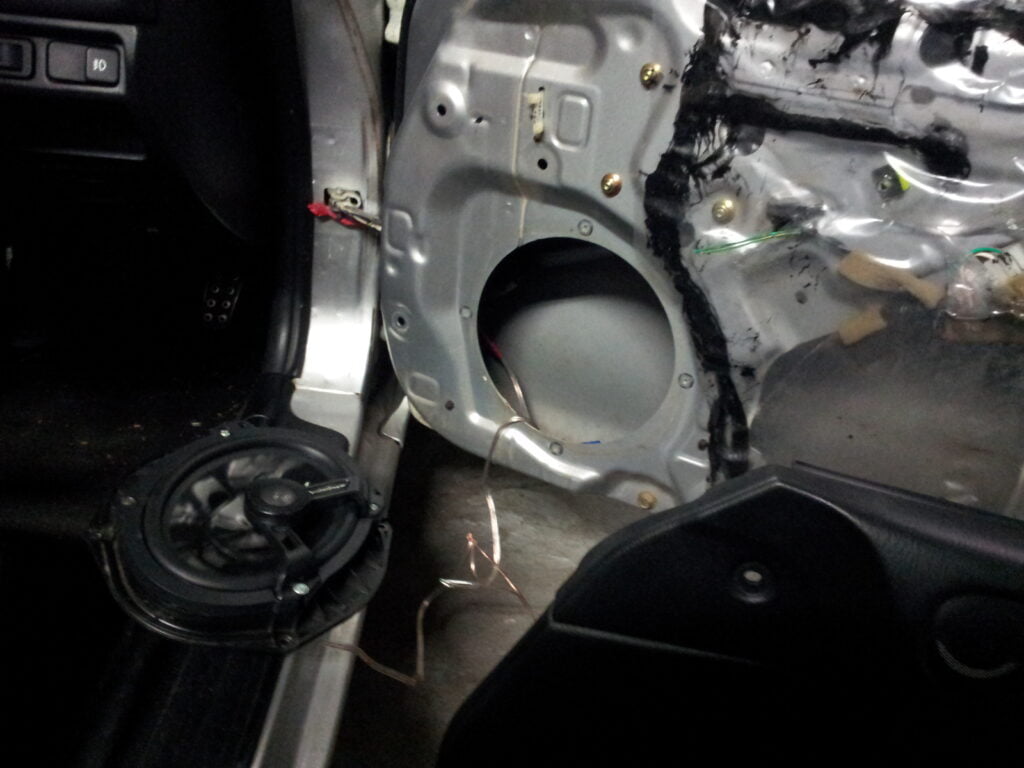 Why Door Speakers are important
As your main source of sound the door speakers are the most important component of your sound system. Some cars unfortunately don't have large speaker spacer.
In the MX5 NB for instance we have a nice and large speaker hole, but the speaker spacer it comes with was quite limited. In some cars unfortunately the window comes down behind the speaker, making that speaker cup all the more important. – The Rockford Fosgate T1682
If your car (like the MX5) does not have this problem (the window rolls down away from the speaker) you can opt out for something larger and beefier.
Sound Dampening your roadster
A good sound system has bass, not too much, but not too-little. The issue with bass is the shaking and rattling of other components in your car.
Most convertible cars have reinforced bodies, you'd be surprised out how little plastic of fibreglass is actually used in the area around the cockpit. Reinforced bodies mean a lot of metal and plastic! This in-turn leads to rattling.
If you use sound dampening material (like Dynamat), you have a few options (as you'll see in the example images), you can either block off the gaps to help the bass be clearer, block off the entire door (you'll find putting your door card interior back on tough though) or you can just do your best to dampen the lighter areas of the door.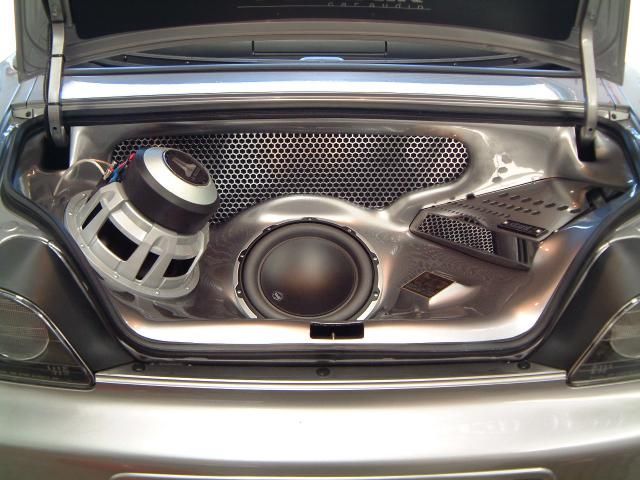 Do not add a subwoofer
In most roadsters unfortunately we don't get a factory subwoofer. If you're driving something like a 350z you've already got a nice spot for the subwoofer, don't go bigger, just swap it out and enjoy the ride!
Why you shouldn't get a subwoofer
If you're one of the unlucky ones like MX5, S2000, Fiat 125, CRX Del Sol etc. then you're going to want a subwoofer in the boot. Now keep in mind the biggest issue with having a subwoofer in the boot is rattling.
Rattle noise can be prevented with the use of sound dampening material (like Dynamat). However, when you have the top down, that rattle will annoy the hell out of you (no-matter how much dynamat you have).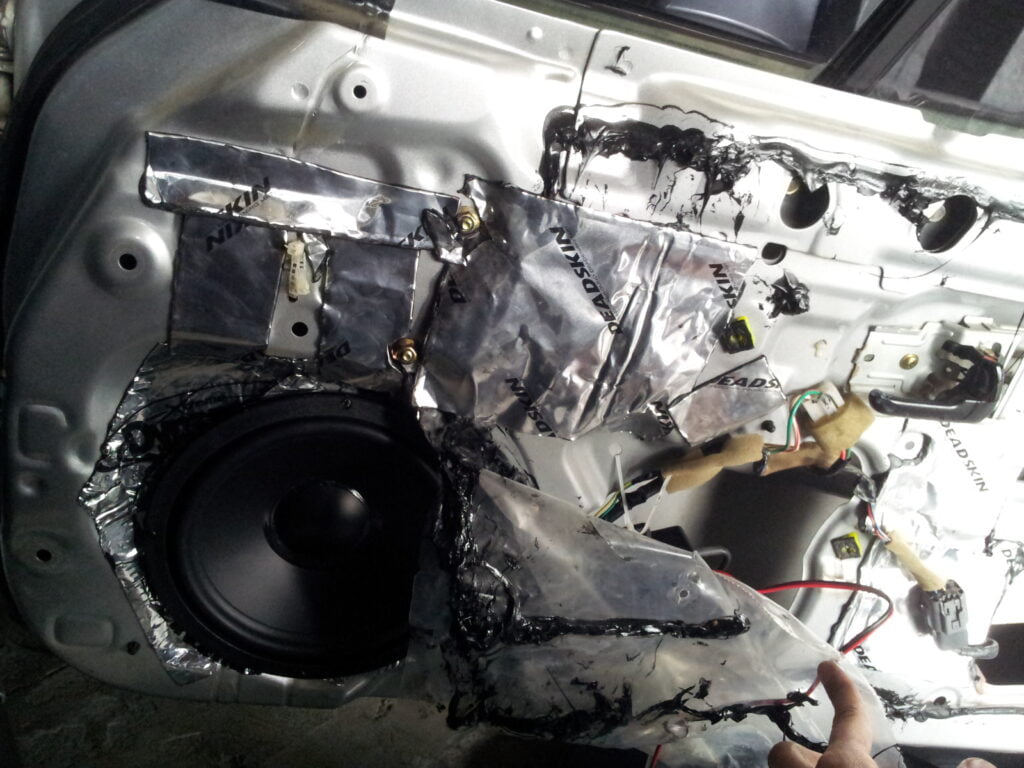 Large Door Speakers
If you're not planning on using a subwoofer, measure the hole in your door (without the spacer) and buy the biggest component speaker setup you can. This way you'll have all the bass down low and the actual music coming out from the tweeter and/or mid-coaxial.
In this example we see the Clearwater CWC-8 8″ driver. It provides very clear bass, at 150W RMS you need a nice amplifier to power these bad boys.
Be sure to use sound dampening material on your door cards. If this is done right, you can really stop the rattling sound that you might get out of having a lot of bass in the doors.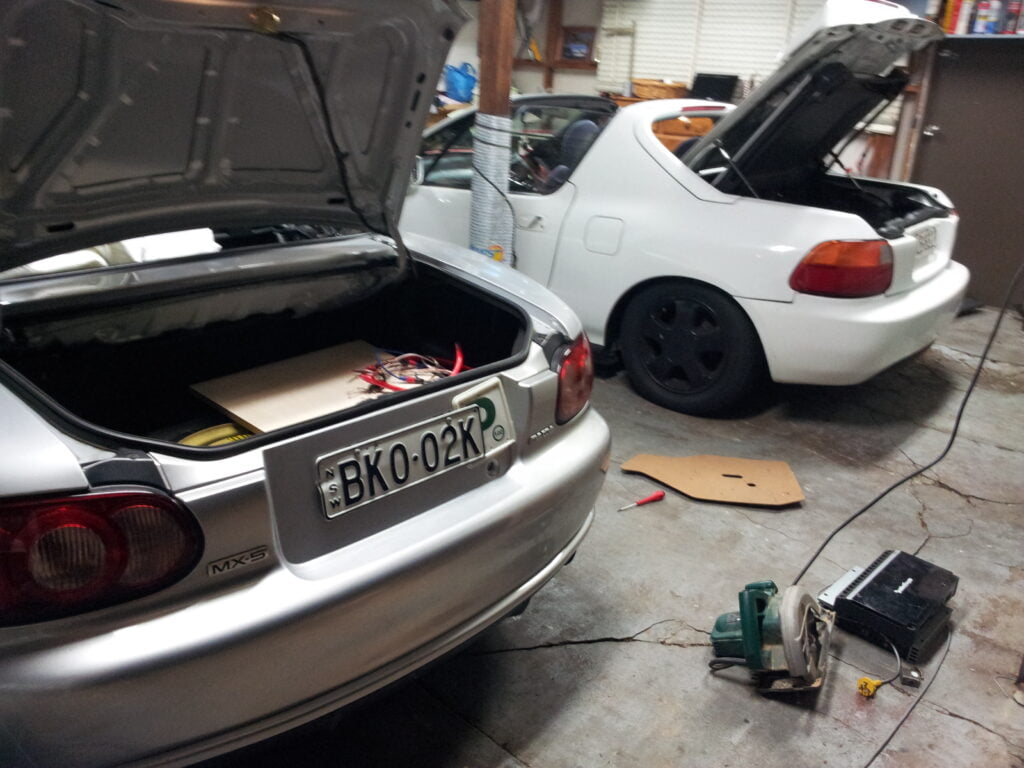 Setting up the trunk / boot
If you're not planning to put a sub in the boot, you should still use sound dampener. If you're planning to put in a subwoofer and aren't getting some fancy custom box made, you'll find the biggest issue is the thin-MDF used to separate the spare tyre (or tyre repair kit) from your actual boot space.
Replace that MDF with something a bit thicker to ensure the subwoofer doesn't sink in or move around (or break anything). Keep in mind it is illegal to have an unmounted subwoofer.
Wind Deflector Speakers
One great thing about most 2 seater convertibles is that we have wind deflectors (wind blockers / wind breakers), in some cars they come standard with tiny speakers in it. In fact these speakers sometimes have special functions like only functioning when the top is down etc.
Adding Rear Speakers
Fitting speakers to your wind deflector is great way to improve sound too, go for something small that will compliment the bass you're getting down at the bottom.
Some cars like the Z4 and S2000 unfortunately don't have much room to play-with; basically just a piece of glass or plexi that you can't really mount a speaker to. There are alternatives as you'll see in one of the images here, you can actually mount a small speaker inside the roll hoop, cutting a whole for a speaker really isn't that hard either if you're on a budget, you could just do it yourself.
Getting clear sound out of a convertible
If you're looking for an all out guide on which speakers / subs / amps to buy unfortunately with constant advancements in technologies (ie. when these photos were taken, Android head units did not exist) recommending any particular product here would be outdated very quickly. But this little list should give you a nice idea:
RMS is everything with speakers / subwoofers (but not all RMS Watts values are true)
Your amplifier should be a reputable brand (RMS is not everything with amplifiers) – Sound quality is important / Power components and tuning capabilities are important.
5ch Amplifier (for 4 speakers +1 subwoofer)
4ch Amplifier (for 2 speakers +1 subwoofer)
Coaxial speakers will sound different every time you move your leg. (Get a COMPONENT setup)
Tweeters can be too loud (do not connect your tweeters directly to your amplifier)
Wind Deflectors should have smaller weaker speakers (you can just hook up to your head unit) go for something clear as hell with a low dB rating.
My best advice to you would be to follow out other guide for getting a sound system. I would like to add that this is the newer revamped version of our old article from SCRM Garage.