The Hyundai Ioniq 5 EV announcement came with Apple stepping out of the picture for Hyundai – Kia, they needed something to push them towards the top. Boy, this does really put them up there with the big players. The EV car economy has changed quite a bit, now we have economic options, like China we're getting some variety from the likes of Tesla.
The image provided in this article has been modified and is only a render of the original.
Hyundai's new Ioniq 5 full-electric crossover provides instant-acceleration, as expected and well… just about the only thing we can enjoy on Aussie roads without road laws. Hyundai is hoping to become one of the more 'flagship' brands in the EV industry, where in the standard sedan or hatchback market they've always been the lower budget option. The modern-retro look (as Honda EV has approached) seems to be the new trend in 2021 onwards.
Electric vehicles in the future will simply be software-based modified, I think the best way we can go about exploring modifications is actually through RC electric cars, bigger batteries, new motors, and of course modules that make sounds and noises. All of which are actually already in most EV cars, we just need some hackers to get some work done! The good news about this new EV generation is that, due to the capabilities of modern technology they willl no longer put limitations on vehicles knowing that they most probably would just be jailbroken anyway. Imagine that, jailbreaking a Tesla or Hyundai to get some new features.
Hyundai Ioniq 5 Launch was virtual
The midsize crossover is Hyundai's answer to Tesla and a growing host of competitorsflooding into the EV race, especially with offerings in the hot-selling utility vehicle market. They announced that they will make the Hyundai Ioniq 5 available in the 3rd quarter of 2021 in Australia (MY22). The Ioniq 5 gets Hyundai Motor Group's first clamshell hood, which minimizes panel gapswhile improving aerodynamics. The DRLs give it a new V-shape light-signature, and along the side, auto-flush door handles compliment the EV look to the car (might remind you of a Tesla though). The clean, angular exterior design with short overhangs and a long wheelbase are meant give the Hyundai Ioniq 5 its EV identity.
Variations
Hyundai will be be selling 2 battery/motor-variants for the Ioniq 5 EV Crossover, with the variations to the all-wheel-drive and rear-wheel-drive setups this sets the total number of models to 4.
The first is of course a 58 kWh RWD Budget-model, the 2nd mid-range is a 72.6 kWh RWD model. In the AWD setups (which would most probably be what everyone wants) it too comes in a 58 kWh model and a 72.6 kWh RWD model.
Hyundai Ioniq 5 Performance
Here are 0-100 km/h stats (announced by Hyundai). Proof with track-times is still to come.
0-100 km/h: 5.2 seconds (AWD 72.6kWh)
0-100 km/h: 6.1 seconds (AWD 58kWh)
0-100 km/h: 7.4 seconds (RWD 72.6kWh)
0-100 km/h: 8.5 seconds (RWD 58kWh)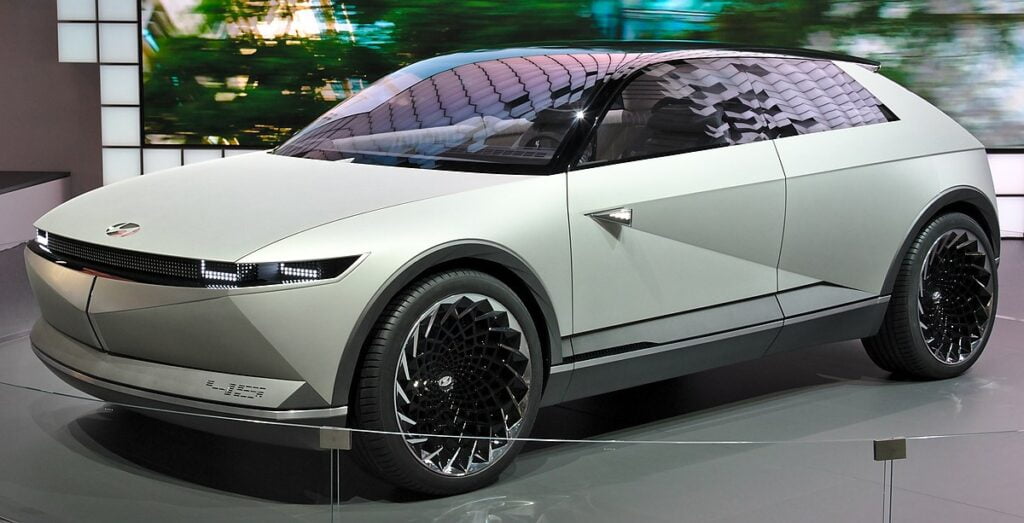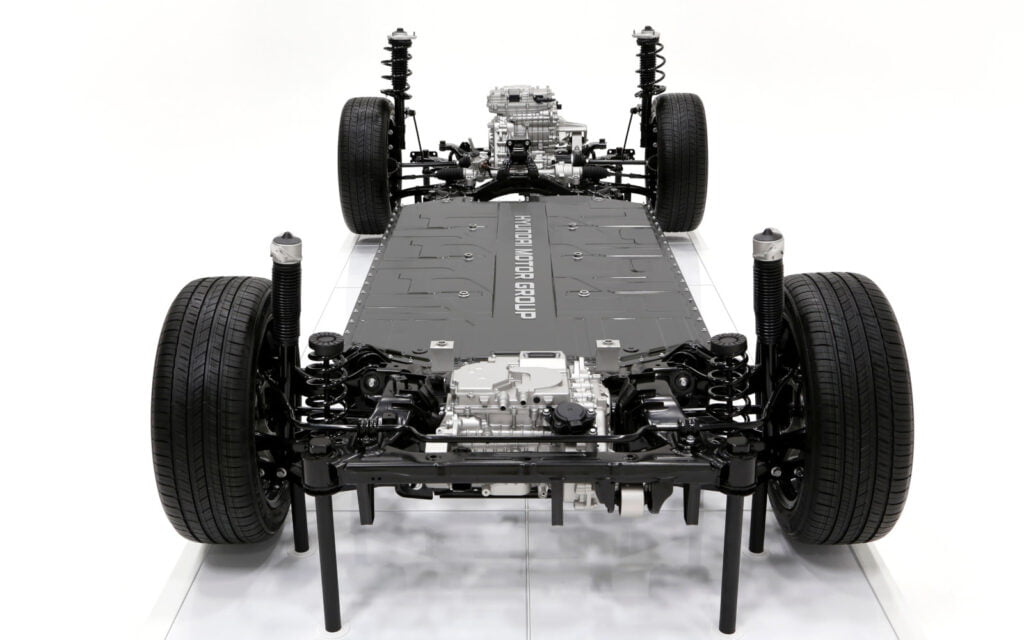 Hyundai Ioniq 5 Specs
Rear-Wheel-Drive & All-Wheel-Drive
72.6 kWh and 58 kWh battery sizes
470 – 480 km driving range (RWD 72.6 kWh model)
18 minutes to 80% charge on 350 kW charger
Top speed: 185 km/h
Power 225 kW
Torque 605nM
Hyundai Ioniq 5 Interior
Several websites made claims that the interior would be able to switch from driver-to-passenger, but this is completely false (untrue). It is a standard interior, with a flush screen, seats that recline for long drives and even naps. It will come with self driving technology and appears not to have a very-large interior, unlike the Tesla Model X (EV Crossover).
Hyundai E-GMP
Designed exclusively for BEVs, E-GMP provides various advantages compared to the Group's existing platforms, which have each been engineered predominantly to accommodate internal combustion engines. Benefits include increased development flexibility, powerful driving performance, increased driving range, strengthened safety features, and more interior space for occupants and luggage.
E-GMP is expected to be implemented into 23 all-electric models, including EV derivatives of models also offeredwith internal combustion engines. The Ioniq 5 is the first e-GMP nameplate. Later this year Kia will follow with its own e-GMP crossover variant, code-named CV. Hyundai plans to expand its EV lineup with the Ioniq 6, an electric sedan, and the Ioniq 7, a largeelectric crossover.